The early demise of an integral I/O converter in Studio One at the University of Lethbridge spawned an infrastructure overhaul. Although plans were already being made, an early opportunity to upgrade the converters and bridge our primary studios, editing suites and recital hall together made itself available. Utilizing AoIP on our existing network infrastructure, bridging those gaps would prove to be simple and affordable.
Choosing the audio-over-ip network protocol was easy. Dante by Audinate is a clear frontrunner in the world of AoIP protocols such as Ravenna, AVB, etc. It's easy to use, scalable, economical, and has become the de facto standard by top audio manufacturers. These metrics are important when planning for equipment, infrastructure and operations to last 10+ years.
When choosing new I/O audio interfaces with Dante capabilities for Studio One, a lot of options were considered. In a Post-Secondary environment, whatever we chose had to be rugged, scalable, and most importantly, budget conscious. Focusrite Pro Rednet products seemed to fit these requirements quite nicely. The central control of the Focusrite Pro RedNet devices across our studios and halls via RedNet Control v2 and Dante Controller was simply icing on the cake.
I've had the opportunity to test a lot of different converters from some great manufacturers. Apogee, Antelope, Avid, Burl, DAD, Focusrite, Merging Technologies. They are all amazing in their own way. While Focusrite may not have been my first choice in a dream scenario, they fit the bill in budget, support, scalability and quality.
I hold the classic Avid converters (Bluefaces, HD/IO) in high regards. They consistently out perform in A/B testing. But in this case the Avid MTRX with Dante and Analog I/O options was just too expensive for the project. The Avid MTRX also had a bunch of great features that would go unused in the technical infrastructure of our studios.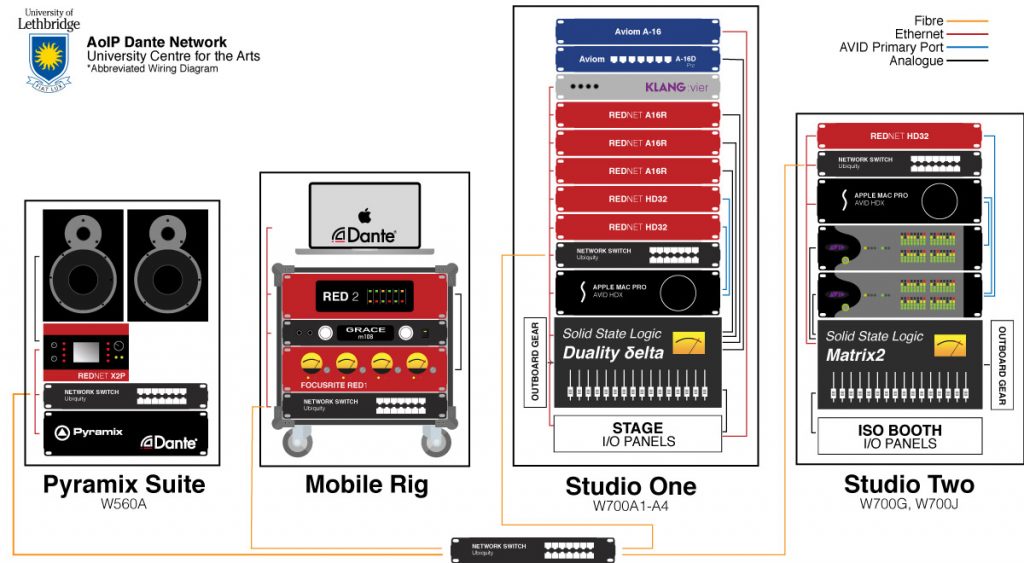 For Studio One it made sense to install 3 Focusrite Pro RedNet A16Rs and 2 Focusrite Pro HD32Rs. The Focusrite A16Rs allow for 48 analog I/O to be normalled to the Channel Outputs & Monitor Inputs of the 48 Channel SSL Duality Console. The 2 Focusrite HD32Rs provide a 64 I/O Dante bridge into our Avid Pro Tools HDX system. In it's default setup the 48 I/O from the console are routed to the first 48 I/O of the Pro Tools I/O. This leaves 16 extra Pro Tools I/O left open for other Dante enabled devices to be routed (guest artist laptops, other DAWs, etc).
Studio Two had a simple addition to its primarily analog setup. A single Focusrite HD32R was added to the facility and clocked via loop sync from the two existing Avid HD 16×16 IOs. In this configuration 16 I/O can be routed to/from the Focusrite HD32R. This can be particularly useful when wanting to route tracks from Studio One through outboard gear located in Studio Two or recording from other locations.
Our Pyramix Suite, attached to our 240 seat Recital Hall, is outfitted with a Focusrite Pro X2P for monitoring and talkback. A stagebox in the Recital Hall is outfitted with Grace M108 remote preamplifiers and a Focusrite Rednet 1 for line I/O. All routed via our distributed Dante network.
With a small amount of hardware and a robust integrated AoIP network we were able to connect all of our existing recording studios, editing suites and hall. The flexibility afforded to us in this configuration is unparalleled for teaching and production. Now with near unlimited opportunity the creative minds will find interesting ways to utilize it. This is truly the exciting part of a complex system integration.